Mallorca Training Camp

Triathlon
Are you looking for a getaway filled with activity and enthusiasm and you're a triathlete too? Then you might consider adding Mallorca training camps triathlon to your holiday season this year. With the pandemic limiting our choices of activities these days, our camps are all you need to get that whiff of fresh air.
Within a few weeks time, autumn will be approaching us and it is the right time to book your triathlon training camp. If you have ever listened to the joyful stories of training camps then you might have wondered at least, as to the excitement and thrill you left behind. If you are thinking whether you should go to training camp or not then we are certainly all in favour of it.
Mallorca Based Triathlon Training Volume Camp
Great Outdoor Adventure
SUPPORT VEHICLE
Support vehicle will shadow the route, provide mechanical support whilst also having the days nutrition and hydration on board.
BIKE HIRE
We will provide you with a Full Carbon Giant TCR road bike with Di2 groupset and disc brakes for more control when descending Mallorca's famous climbs and descents.
Guiding
Experienced staff know the roads better than anyone, guiding you along Mallorca's famous roads and mountain climbs, with the best scenic viewpoints and mountain springs on route.
Group Rides
Your ride group will be dictated by your Strava history, with both groups following very similar rides covering all abilities, distances, gradients and climbs.
Meals
Breakfast and Dinner are included, 2 days where you have swimming followed by Strength & Core, a hotel lunch will be provided. All ride nutrition will be provided by POWERBAR.
Accommodation
You will be staying in spacious apartment room with living room, dining and small kitchenette, in Port de Pollença, seamlessly suited to your requirements in an idyllic spot.
BIKE MAINTENANCE
We take very good care of all the bikes. If there is any specific issue with your bike, then please mention it to the support crew. This allows you to focus on your recovery.
Coaching Session
Dedicated coach support through every session will empower you with knowledge and the skills, in preparation for a season of Full or Half distance events.
The triathlon training camps are great for all types of triathletes. Whether you are a beginner or an expert, Mallorca training camps are a great pick to make. A lot of camps do not function during the winter season and we also prefer that you must opt for camping during the spring and autumn seasons as they are the best times to inculcate this activity in your routine. You cannot enjoy camping during extreme cold and hot weather.
Reasons to attend Mallorca Training Camps Triathlon
Attending a training camp triathlon might seem like a luxurious getaway for a week but there is a lot that you can gather for this form of activity. Moreover, if you plan out what exactly you are looking for, then you will be able to gain more from the camp.
Here we have listed some of the many reasons to attend our triathlon training camps and how they can benefit you. Let's get started.
Training Perks:
A triathlon training camp with us will allow you to have the perfect getaway from your daily routine and focus entirely on your training. Manu triathletes feel that they could have practiced more for their event or race but weren't able to do so, because of lack of focus. Our aim at Mallorca training camps triathlon is to provide the right environment and training vibe to the traitheles to help them practice at their best.
There are literally no distractions and no last moment meetings that disturb your training mode. There are no excuses to ditch your training. We have a week and even two week training camp plans available. And even if you have 7 days of completely focused training; you will see a very positive change in your practice. It will have a huge impact on your performance and you will feel grateful that you attended the camp.
Get Professional Coaches:
The biggest benefit of attending Mallorca training camps triathlon is that you get access to a team of professional coaches through us. However, it depends completely on you, whether you need a professional coach or not. The benefit of coaches is that they will watch your performance and analyze where you stand as a triathlete. If they think that you are not doing really well, then they will guide you through it and give you detailed feedback at the end of the week. They will also guide you throughout the week as to how you can improvise.
Link-Minded Athletes:
Being around people who have the same aim as yours, makes a huge difference. This boosts you to do more and achieve more, gaining more experience. You also make a lot of new friends and you all boost one another to do better and train better too. The experience is certainly unmatchable.
You get the right time to recovery:
In your daily routine, you are unable to recover properly. Your resting time is neglected. But with our triathlon training camps, you are able to get the time to rest and recover too. You will not only get the right time for training like a pro but you will also get the time to rest and recover through the muscle cramps. We tell our clients to stretch and relax to recover and get a good night's sleep too, so that they can train efficiently the next day as well.
A training camp brings the right opportunity for triathletes to train and get the perfect break from their routine too. Triathletes find it tough to practice amidst their daily chores and it gets tougher for them. Therefore, Mallorca triathlon training camps are here for the rescue. We have weekly and bi-weekly plans for all triathletes. Whether you are a beginner or a pro; our training camps will help you train effectively. Choose a plan and get started now.
Culmination of Training Social
Also what I've realised, what makes this retreat so special, is the power the group energy has, the other athletes are a boost to your energy and motivation when you race a triathlon, so are the triathletes that will join you on this training camp.
A fantastic week wouldn't be finished without an awards night, from our Strava based leader board, we will present:
– Overall Improved Fitness
– Sprinter Award
– King of the Mountains
Prizes from our Sponsors & Partners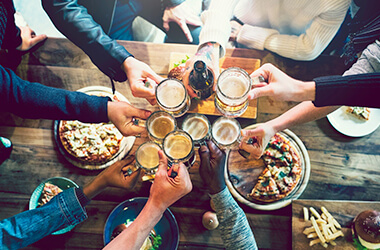 It's all about not standing up for hours, hanging around late in the night, and over generating needless fatigue for the next training day. Believe it or not, excellency lies in this kind of details, however we will have a social evening.