Mallorca Training Camp

Cycling
The generation is growing to become virtual day by day. We love to have a luxurious time on our smartphones but have started to limit our physical activities a lot. But with the passage of time, as mental health is gaining importance, it is crucial to gain interest in outdoor activities. And our aim at Mallorca Training Camps Cycling is to help people enjoy the outdoor activities, at their best.
With the help of training camps, one can enjoy cycling to its best. It has wholesome benefits for the human mind and body. Outdoor exposure holds a lot of perks for the emotional well-being of humans. It is magical and therapeutic and brings a very positive change in one's life. And to start off with, cycling is a great option to choose for.
Cycling is mentioned time and again by experts as a wonderful option for the mental wellbeing of individuals. It helps in beating anxiety, depression and stress. It is a great outdoor activity strategy for all as it is convenient and quick. And to avoid the rushy pathway, Mallorca Training Camps Cycling services are here to help. We have pathways that are surrounded by beautiful paths and sights. Thus, inculcating cycling in your daily routine or opting for a cycling camp for your emotional wellbeing can be a wonderful choice.
Mallorca Based Triathlon Training Volume Camp
Great Outdoor Adventure
SUPPORT VEHICLE
Support vehicle will shadow the route, provide mechanical support whilst also having the days nutrition and hydration on board.
BIKE HIRE
We will provide you with a Full Carbon Giant TCR road bike with Di2 groupset and disc brakes for more control when descending Mallorca's famous climbs and descents.
Guiding
Experienced staff know the roads better than anyone, guiding you along Mallorca's famous roads and mountain climbs, with the best scenic viewpoints and mountain springs on route.
Group Rides
Your ride group will be dictated by your Strava history, with both groups following very similar rides covering all abilities, distances, gradients and climbs.
Meals
Breakfast and Dinner are included, 2 days where you have swimming followed by Strength & Core, a hotel lunch will be provided. All ride nutrition will be provided by POWERBAR.
Accommodation
You will be staying in spacious apartment room with living room, dining and small kitchenette, in Port de Pollença, seamlessly suited to your requirements in an idyllic spot.
BIKE MAINTENANCE
We take very good care of all the bikes. If there is any specific issue with your bike, then please mention it to the support crew. This allows you to focus on your recovery.
Coaching Session
Dedicated coach support through every session will empower you with knowledge and the skills, in preparation for a season of Full or Half distance events.
Benefits of Cycling for Mental Wellbeing
People who come to us for cycling, usually do so because it makes them happy. Few of them come to our cycle training camps for fun or to take a break from the usual routine. And many come to train themselves as professional cyclists too. If we look beyond the factor of being a hobbyist cyclist or doing it for training purposes, there are a bunch of positive benefits of cycling.
Our team of experts at Mallorca Training Camps Cycling services make it a point to educate our clients about the benefits of cycling so that they can take the activity more wholeheartedly. Thus, we have summed up all the advantages of cycling for everyone who is interested in our cycling training camps.
Great for enhancing your mood:
Have you heard of the cycling high? It is a term that is used by runners too, as they say that they experience a runner's high. Cycling high is a feeling that a cyclist experiences as his/her hormones boost positively and give the happiness rush, enhancing their mood. How does this happen? This happens because while cycling, the heart pumps blood around the human body at a faster rate. It spreads endorphins and serotonin etc. boosting the human mood in a positive way.
It boosts good sleep:
As cycling boosts your mood and reduces stress, it is also great for enhancing your sleep quality. When your body will have a spread of good and happy hormones, it will automatically generate good feelings across your body. Once your body is feeling fine, it will boost your sleep. If you are an insomniac, you can try our cycling camos for a week and you will notice positive changes in your routine.
Enhances creativity:
Cycling has a very relaxing effect on the mind and body. It stabilizes humans physically and mentally. Once you are fresh mentally, you will have a lot of ideas rushing through your brain and your creativity will be boosted too. A stable mind is capable of generating more ideas.
Good for memory:
Cycling has been proven scientifically to build new brain cells. They are the epitome of memory in humans. Thus, they can play a role in building good memories too. There are still a lot of studies under process for this too.
How is Mallorca Training Cycling Camp Helpful?
Our cycling training camps are a great pick for beginners, triathletes and high-level riders too. The best times to book our camps is spring and autumn as the weather is extremely pleasant and leaves a very positive impact on our riders mental and physical well being. During early spring, a lot of the professional cycling teams are seen riding our isle and pathways. We have some of the most serene sights for cycling that are beautiful and eye-catching. We have 11 climbs/pathways and you can make your own pick, according to your requirements.
Culmination of Training Social
Also what I've realised, what makes this retreat so special, is the power the group energy has, the other athletes are a boost to your energy and motivation when you race a triathlon, so are the triathletes that will join you on this training camp.
A fantastic week wouldn't be finished without an awards night, from our Strava based leader board, we will present:
– Overall Improved Fitness
– Sprinter Award
– King of the Mountains
Prizes from our Sponsors & Partners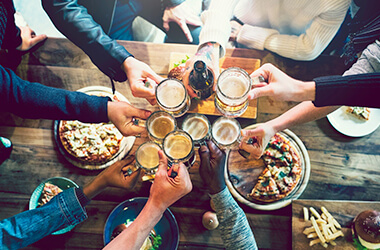 It's all about not standing up for hours, hanging around late in the night, and over generating needless fatigue for the next training day. Believe it or not, excellency lies in this kind of details, however we will have a social evening.